Student-Faculty Collaborations
Richmond's chemistry department is a very active place with lots of student-faculty collaboration and research underway. In the last five years, the faculty have raised more than 2.5 million dollars in faculty grants to support their undergraduate research groups.
A department endowment also provides several $4,500 stipends for students who do research on campus for a 10-week period during the summer. In addition, the School of Arts & Sciences awards many summer research fellowships, both through its own funding sources as well as national partners like the Howard Hughes Medical Institute.
The School of Arts & Sciences also makes a number of travel grants available for students who are ready to present their research at regional or national meetings and conferences. Since 2002, there have been 89 student-faculty peer-reviewed publications in high-quality journals and more than 108 student presentations at regional and national meetings.
During the summer, more than 65 of our chemistry and biochemistry undergraduates stay on campus to perform full-time research with faculty.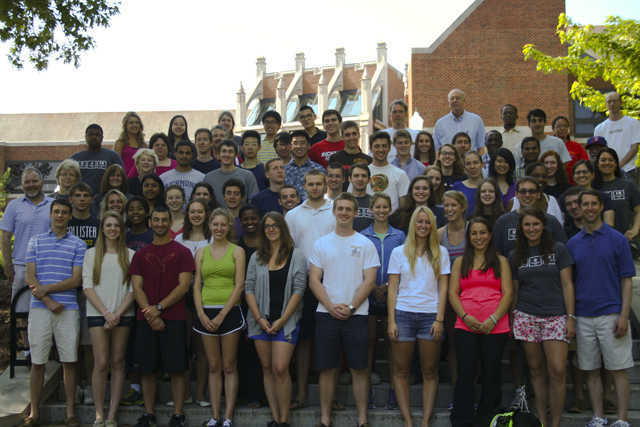 The chemistry department at the University of Richmond hosts one of the largest summer undergraduate research programs in the United States. In the summer of 2013, more than 75 undergraduates, faculty, visitors and high school students worked on a range of disciplinary and interdisciplinary projects.
To learn more about the collaborative opportunities available in the chemistry department, check out the descriptions of some of our faculty members' research laboratories (linked in the sidebar). This list is not exhaustive. If you don't see a research group listed, check our department's complete listing of faculty.